Types of Softfall Safety Surfaces
Softfall safety surfaces are one of the most important part of the playground. Not only do they keep our children from being seriously injured they make the playground look finished.
All of our playground equipment and softfall safety surfaces are made to Australian Safety Standards.
Kids will always be kids. When they are learning balance, coordination and climbing skills it is important that there is something safe to land on and that it meets Australian Safety Standards.

Rubber Flooring as a Playground Softfall Safety Surface
Our rubber surfacing is made of recycled tyres and provides an attractive, durable surface. Our rubber playground surfaces can be customised in colour and design. Colours can be customised to match your playground's colour scheme or to match existing surfaces in the area. Read More
Takura Bark as a Softfall Playground Surface
The bark is a natural low-cost alternative for a playground softfall surface. Read More
Synthetic Grass as a Softfall Playground Surface
Economical, long-lasting and hard-wearing, the synthetic grass is suitable for both indoor and outdoor use. The grass is also more tolerant to extreme temperatures so is good in really exposed areas. Read More
Sand as a Softfall Playground Surface
We can design and install sandpits, or layer sand as soft-fall for your playground. Read More
CSBR Rubber Colour Options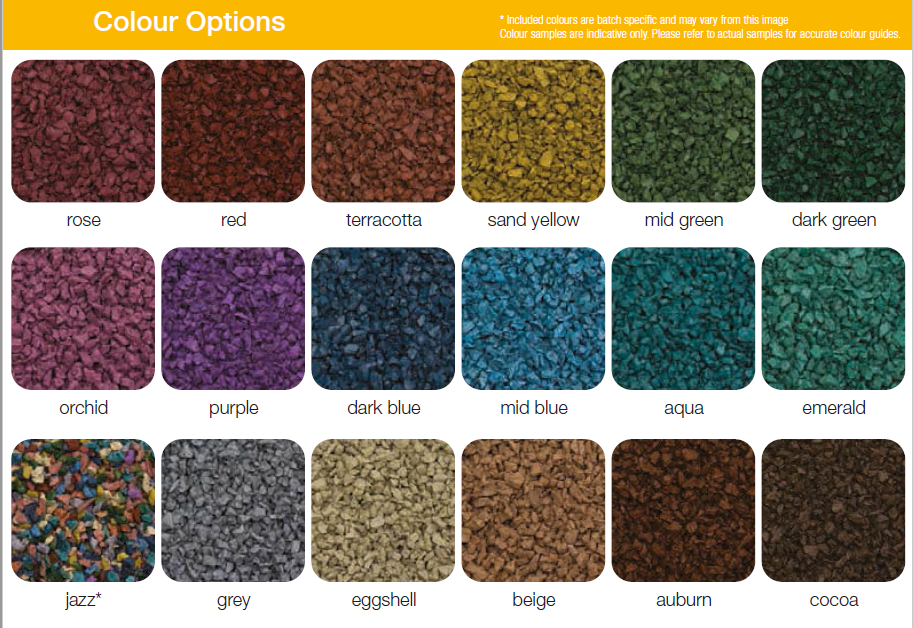 CSBR Products are Supplied by: A1 Rubber